One of the most common questions I have as a solution engineer revolves around an IP Address or Subnet. What is a /30? How many IP's are in a /29?, What is my gateway IP? The company I work for typically assigns the 1st available IP as the gateway IP so I send out the following information to partners and customers to help simplify answers to these questions for the typical user.
IP Breakdown
- Charts and Tools
simplified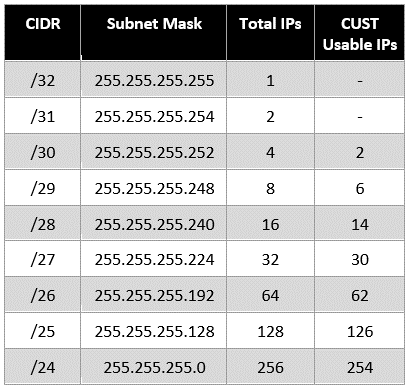 LAN Block example:
LAN IP Block: 65.140.216.224/29 (255.255.255.248) – 8 Total IP addresses
Subnet mask: /29 or 255.255.255.248
Network address (Subnet ID): 65.140.216.224   – Using first IP address – not usable by customer
Gateway address: 65.140.216.225   – many providers default to use 1st avail IP (Host) as gateway address
Customer usable IP Address Range left: 65.140.216.226 – 65.140.216.230
Broadcast Address: 65.140.216.231   – last IP address in range – not usable by customer
You can also use this handy calculator: Online Subnet Calculator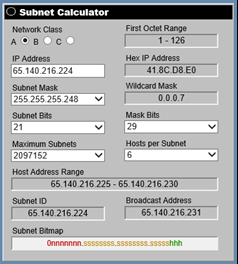 The online calculator is simple to use:
1st octet range dictates network class radial button selection
Insert IP address in box that matches range you selected
Select subnet mask
After selection and input of these items, the calculator produces usable ranges starting with Host Address Range (or usable IP address range):
65.140.216.225 – 65.140.216.230 (6 IP Addresses)
Remember, first usable .225 is used by typical provider as gateway address.
This is a quick simplification to get anyone started to quickly breakdown a subnet to get their IP assignments. I hope this quick guide helps!